FREQUENTLY ASKED QUESTIONS
What conditions are these items in?
All our items are 100% brand new.
Is will call available?
Will call is available to all Southern California residents. Please give us a call at canadabrakes.com to schedule a pickup.
Will these products require additional modifications or new brake calipers?
These items are Original Equipment specifications and will NOT require any type of additional modifications. However, we do recommend the use of new brake pads.
Will I get a tracking number?
We will email you a tracking number when all items are shipped.
What is your Warranty Policy?
365 days warranty (1-year). We will replace your brake rotors after inspection for any warping or manufactured defects. Buyers are responsible for all returns; shipping, duties and/or custom fee. Warranty will not be granted if any signs of abuse or if the rotor(s) has reach it's minimum thickness. And cannot be transferred to new owner or to different parts.
Disclaimer of Warranty: By purchasing parts, purchasers expressly acknowledge, understand and agree that they take, select & purchase any part from canadabrakes.com and its affiliates, distributors, and agents "As is" and "With all faults." The entire risk as to the quality and performance of any parts is with the purchasers. Should the parts prove defective following the purchase, purchase assume the entire cost for all necessary serviing, repair, replacement of any resulting liability, canadabrakes.com makes no warranties whatsoever, express or implied, oral or written, to purchasers or any user of these parts. canadabrakes.com express disclaims any implied warranty of merchantability or fitness for a particular purpose, including fitness of any parts of racing.
What is your Return Policy?
We offer 60 days return policy starting the day buyer receives the item(s). Item(s) being returned must be in brand new condition as it originally came with the original boxes, hardware, manuals, accessories, and etc. All shipping expenses including duty and/or custom feeds will be paid by the buyer. A 15% restocking fee will be charged.
Cross-Drilled Slotted Performance Brake Rotors
So what is the hype with cross-drilled and slotted rotors? Basically, the purpose of cross-drilled, slotted, or dimple rotors is to dissipate heat by degassing the hot gasses created under intense and normal driving conditions.
In this aritcle, you will find terminologies used in the brake industry as well as a short description of styles and designs. All cross-drilled slotted rotors have the same characteristic:

CNC machined for precision & balance
Military spec. Plating
Prevent premature warping
Prevent fade
Reduce operating temperature
Reduce stopping distance
Prolong the life of the pads and rotors
Cross-drilled: Holes are drilled through the rotor to dissipate heat. Cross drilling is very effective for heat dissipation. It will prolong the life to the pads, rotors and improve stopping power. It also shed off water under-wet driving condition.

Slotted: A line cut on the surface of the rotors to dissipate heat and increase bite. Slotted rotors will bring up the operation temperature of the braking components much faster over cross-drilled, yet it dissipates the heat at the same time. The added bite will reduce the stopping distance. Slotted rotor does not scarify the structural integrity of the rotor.
Zinc-Plating: Zinc plating is a chemical process that is applied onto most rotors to prevent rotors from rusting. This chemical plating process is usually available in black zinc, gold zinc, or silver zinc. Although the entire rotors is zinc plated, the zinc will only remain on areas that do not come into contact with the brake pads. When purchasing cross-drilled slotted rotors, always make sure that the seller offers free zinc ($40 Value).
Cross-drill and slot patterns are precisely CNC machines for perfect fit to OEM specs for use with OEM calipers and wheels so that no upgrades are needed. Cross-drilled and slotted rotors give the maximum braking performance under all necessary driving conditions. Precision machined holes or slots on the rotors will allow hot gases from brake pads to escape quickly to prevent skidding or locking up. The quick response from pads to rotors will allow for improvement in stopping power. In addition to performance, cross-drilled slotted rotor customizes and enhances a vehicle's wheels.
Why buy new brake rotors instead of turning them?
Your mechanic has advised you to buy new rotors rather then having the old ones rotated, or "turned." Is he trying to rip you off? Can't we just use the old ones, or is it important to purchase new rotors when you put on new brake pads? There are a number of factors to consider before answering this question. But for the price of new rotors versus the price of having them turned - you might as well just replace them and give yourself some valuable peace of mind. With a cost difference of only about $10 per rotor, it may make a difference one day when you most need your maximum braking power.
To purchase new brake rotors or turn them, ah that is the question. You are wasting your money if you are fitting new brake pads on your vehicle and your rotors are seriously scored or hollowed. It's extremely dangerous and could also cause the vehicle a total loss of brake. No one ever wants to experience total brake loss. Therefore it is strongly recommened that you replace or turn your rotors before installing any new pads.
Your brake center can check the surface condition of your rotor with a straight edge to see if there is more then 0.5mm or 0.020 inches of hollow and if so your rotors must be turned or replaced. If you do not turn or replace the rotors you will have a dangerous braking situation and your pads will become damaged. Since this is a safety issue of the utmost importance, it is strongly recommended that you have a professional mechanic take this measurement for you. Rotors can be turned only about 1 or 2 millimeters before they become too thin for safe use and will have to be discarded and replaced.
Brake rotors that have been repeatedly over heated may warp and create a vibration in the wheel. This warping will significantly wear out your tires and suspension systems. If you press the brake pedal successively harder while coming to a stop and you feel a pulsing sensation, the rotors are more than likely warped. A mechanic can take multiple measurements around the rotor with a micrometer to determine how much variation or warping is present.
Brake rotors for front wheel drive vehicles are fairly inexpensive. Your rotors can be turned (rotated), machines and still be within factory guidelines, but this usually leaves them thin whereby leaving them to warp or vibrate.
The cost for turning a rotor runs anywhere from $15 to $25 per rotor. Purchasing new rotors typically will cost from $20-$30 per rotor and of course you will have a lot less problemsand a much longer rotor and brake pad life span.
During a brake service, you technician needs to verify that each rotor is not warped and meets the legal minimum thickness specification. Every rotor that falls within these specifications is turned on a lathe and then sanded on both sides for smooth, non-directional finish. This is the correct way to "turn" rotors that need to be machined, and it provides a smooth surface for the new pads. Unfortunately, by turning every rotor that measures up, regardless of need, you lose preconditioned rotor surfaces.
Turning a "good" rotor makes it thinner and reduces its ability to absorb and dissipate heat. By turning this good rotor yo may cause warp in the near future when simply replacing the rotor assures you this problem will not occur.
Which rotor is considered Left or Right side?
There are many questions when it comes to drilled and slotted brake rotors. One main questions is what is considered a left or a right rotor. There is no wrong or right direction when installing your drilled/slotted brake rotors. But here is what we recommend:
Left Side (Driver Side)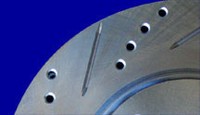 Right Side (Passenger Side)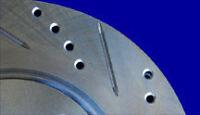 Picture shown is with the hub facing up. Some people like to install them in the opposite side and that is fine too.It's personal preference. One thing we do recommend when installing new brake rotors is to use new brake pads. Using old pads might warp your rotors due to uneven wear on the pads.
How to break in new brake rotors and pads
When you are ready to brake in your new brake rotors and pads, please perform these procedures in an empty parking lot or street.
1. Engage hard braking at 40 mph. Do not come to a complete stop.
2. Go 50 mph and jam the brakes just to the point of engaging ABS all the way down to 10 mph. Do not come to a complete stop, repeat this process 4 times.
3. Then go 65 mph and slow the car down to 15 mph to finish it up.
4. Park the car and let the brakes cool down for 20 minutes.
Try not to have long gaps in between the hard stops and do not come to a full stop with the foot pressed hard on the brake pedals, as it will imprint the pad on the rotor which will cause vibration. You may notice a blue tint and dark grey color on the brake pad surface of the rotor as the brake pads are embedding into the rotor. You may even hear squeaking sounds, see smoke, or smell an odor; this is normal due to break-in period. It will take approximately 400-500 miles of moderate driving for the pads to be fully embedded into the rotors which will then give optimal performance.
What is brake pad bed-in?
Brake pad bed-in is a process where gradual heat causes the brake pads to transfer brake compound to the rotors. The brake compound forms a sticky layer on the rotors when heated. This sticky layer on the rotors and the pads will provide the necessary friction to stop your vehicle without forming heat spots.
Is there a Dust-Free pad?
NO. All brake pads will leave a certain amount of dust or particles. Ceramic compound pads are generally considered non aggressive and low dust. The reason is because ceramic pads releases very light color dusts that are not that visible on the wheels. Keep in mind that the more aggressive the pads, the more dust and noise it will produce.
Solid or Vented? How can I tell the difference?
This guide is to determine whether your vehicle has solid or vented rotors. Please look at the picture below to differentiate between a SOLID and VENTED rotor.
What is a Diamond Slot Rotor and why it is superior?
A rotor, or disc, is not just a rotor anymore. A technological advancement in the manufacturing of rotors has created the new diamond slotted rotors. With improved wet weather braking, increased safety and reliability as well as increased brake pad bite, this new diamond rotor is worth the hype. If you are looking for superior street performance you will want to purchase the diamond rotor next tim eyou are ready to replace your pads and rotors.
Advantages of Diamond Slot Rotors
Increased brake pad bite
Faster release of brake pad gases
Indicator of rotor wear
Improved wet weather braking
Reduced fade
Increased safety and reliabity
Runs cool, looks cool
Diamond slotted rotors are called as such because of their unique diamond etching pattern. These rotors are recommended for superior street performance. Diamond slotted rotors provide increased braking grab and will help keep your brake pads clean. The diamond etching gives the effect of Cross-Drilled without any danger of cracking.
The Diamond Slots is a truly unique design in slotted technology. This design was created to maximize the out-gassing while at the same time maintaining the structural integrity of the rotor. The series of slots and diamonds slots "wipes" the surface of the pad, reducing gases which build up and cause brakes to fade at higher temperatures.
The slots and diamonds are machined to the minium rotor thickness to insure rotor strength and integrity. So the daimond end points also acts as a minimum thickness indicator. If you don't see the diamond end points, this means you are reaching your minimum thickness on the rotor.
The appearance of this design is highly desirable to the performance enthusiast wanting a new look to their vehicle. It gives an aggressive appearance and enhance the look of your wheels.
Heat is a normal product of the braking system. The problem is that for every increase of 100 degrees over the normal operating temperature, brake wear doubles. The longer your brakes stay at high temperatures, (this is called "out-gassing"), which forms a barrier between the pad and disc, the out-gassing pushes the pad from the rotor and therefore reduces brake efficiency.
The primpary reason diamond slot rotors are the best solution is that they run cooler, apporximately 200-250 degrees cooler when used with high performance pads, This reduces the chances of warping, which has become a major problem in recent years, particularly on late-model, domestic vehicles. Additionally, you will experience improved wet-weather braking.
So, if you are experiencing overheating of your brakes or if you just want a new modern look for your car or truck, check out the new Diamond Slot Rotors available on the market. They're really hot and yet cool.
Rounded Slots
Brake Debris is trapped within slots, minimizing brake bite.
Outdated design
Uneven gas distribution, maximizing the possibility of glased rotor surface
Minimizes effectiveness of slots